Appendix 4
ABOUT THE AUTHOR


Born in Champaign, Illinois and raised near Pittsburgh, Pennsylvania.
Received a degree in Electrical Engineering at Penn State University.
Spent a year studying French in Paris and German in Munich.
Worked as an engineer in Stockholm, Sweden for three years. During this period, expanded research into the environmental cause of myopia and built the prototype of the Myopter.
Worked as an engineer in Geneva, Switzerland for three years, further refining the design of the Myopter.
Returned to engineering work in the US and built the Myopter in 1972, introducing it to the optometric profession at the 1973 Annual Meeting of the American Academy of Optometry in San Francisco. This paper, "The Myopter Viewer: An Instrument for Preventing, Improving and Eliminating Acquired Myopia", was subsequently published in the May, 1975 issue of the American Journal of Optometry and Physiological Optics.
Introduced the instrument to optometrists of other countries in a paper presented by simultaneous translation into other languages at the 1973 Congress of the European Society of Optometry in Copenhagen, Denmark. This paper was subsequently published in the September, 1974 issue of the Journal of the Scottish Association of Opticians.
In 1974, when it had become apparent that eye doctors had no interest in prevention, formed the nonprofit International Myopia Prevention Association to take the message directly to the public.
On May 13, 1975, obtained US Patent 3,883,225 on the Myopter.
In 1975, filed an application with the National Eye Institute for research funds to test the Myopter. The application was rejected without discussion.
In 1981, self-published The Myopia Myth, after being turned down by all the major publishers.
Recognizing the potential of the growing Internet, put myopia.org online in April, 1998 and nearsightedness.org in April, 2000. The Myopter and reading glasses in a child's frame were made available to the public, since vision specialists generally refuse to prescribe them.
During 1998 and 1999, the article "The Truth About Nearsightedness" was published on the Nurturing Magazine website www.nurturing.ca, in the Sun Coast Eco Report (Sarasota, Florida), and in the Townsend Letter for Doctors and Patients.
On September 3, 1999, started an Internet business which quickly became the world's largest seller of pinhole glasses, challenging and ending the decades-long suppression of these glasses by the eye doctors and optical industry. Within a year, created and offered to the public several products never before available:
Pinholes sized for children
Snap-on pinholes for cataract sufferers
Holeless pinholes that look like sunglasses
In April, 2001, published The Myopia Myth in eBook form.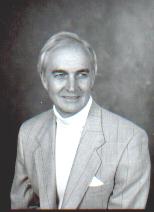 Donald Rehm, author of The Myopia Myth, president of the International Myopia Prevention Association, and inventor of the Myopter, Holeless Pinhole Glasses, and Snap-on Pinhole Glasses.